William Golding books inspiring light.
"At the moment of vision, the eyes see nothing." writes William Golding in his novel of The Spire. A book which deals with the construction of the 404-foot high spire and is loosely based on Salisbury Cathedral. Indeed visitors to the tallest tower in Britain have carefully trod in semi- darkness. That is until a volunteer guide, Robert Stiby,  paid with his own money to have new lights installed inside the ancient scaffolding of the tower. Visitors are now able to marvel at the medieval structures. What has this story to do with book collecting you might wonder? As a bibliophile it is a reminder of the endurance and interest of classic authors.
William Golding (19 September 1911 – 19 June 1993)
Golding remains a recognised novelist, playwright and poet being ranked third on The Times list of "The Greatest Writer since 1945". He was awarded the Nobel Prize in Literature in 1983 for his most famous work, The Lord of the Flies. Golding wrote many fine novels yet it is this book which he is most remembered for.
Fine copies of the classic, The Lord of The Flies, remains attractive to collectors of modern first editions. Indeed it could be argued that "A collection of modern fiction would never be complete without it" (Connolly, 136).  As always the main factors affecting the appeal of a first edition book is the condition and the dust jacket.
The first UK edition of The Lord of The Flies published by Faber & Faber in 1954. It features the iconic jungle artwork on the dust wrapper. The children trapped on the island blend into the wild, jungle environment around them.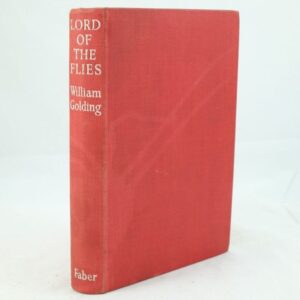 The US edition was published a year later in 1955. It was not popular and sold around 2,383 copies before quickly going out of print. This makes it a rare find. The dust jacket of this edition has a more dense foliage and darker colouring than the British publication.
When writing The Lord of the Flies  Golding sought to "…illuminate the human condition in the world of today". Almost as an echo to the past Canon Edward Probert, chancellor of Salisbury Cathedral commented on the new spire lighting. He states that, "…what was once clothed in darkness is now illuminated…"
To see more modern first editions and copies of William Golding books go here.