Artist and Author- an unusual book collection?
A bibliophile can often build a rare book collection around an author or topic. There are so many to choose from! However, how about a collection of authors who are also artists? There are surprisingly number of authors who have dabbled in art and in fact are as talented with the paintbrush as they are with the pen. Collecting first editions books of authors who have illustrated their covers might make an interesting and rare range of books. Here are a few authors and books that might go into such a collection.
Rudyard Kipling:  Kipling was the son of an art teacher and the nephew of two of the greatest late Victorian painters, Sir Edward Burne-Jones and Sir Edward Poynter. Brought up in this artistic environment it is not surprising that Kipling developed artistic confidence and skills. Many of his animal and jungle adventure stories included his illustrations. One of the finest examples is Kipling's eclectic mix of drawings is in his children's collection, Just So Stories. The illustrations demonstrate the rich artistic influences of Aubrey Beardsley, Japanese printing and European and American folk art. A brilliant combination of artistic and literary flair.
J. R. R. Tolkien: 
Tolkien developed his artistic talent with as much attention and imaginative rigour as he did his writing. He enjoyed working on visual mediums of drawings and illustrations for his books and for his own children. A collection of 200 reproductions of his watercolour, pencil, and ink works is included in Wayne G. Hammond and Christina Scull's collection,  J. R. R. Tolkien, artist and Illustrator. Tolkien's obsessive accuracy of detail are reflected his attention to the maps and imaginative illustrations of his books of Middle Earth, The Hobbit and The Lord of the Rings trilogy. Publications of his novels were often delayed by his characteristic amendments and alterations in order to satisfy his artistic and literary perfection. Yet his work remains a true example of a great techniques of writing and illustration.
Evelyn Waugh: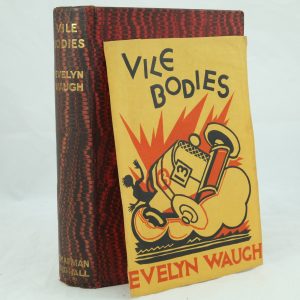 Waugh utilised artistic skills to reflect his black humour and irony in his publications. During his university years he contributing to his university's magazines, Cherwell and Isis with his cartoons. After graduating he contributed to a friend's prank exhibition with a painting attributed to a spoof German artist, Bruno Hat, "in the modern French style". His distinctive dust jackets for Decline and Fall and Vile Bodies are iconic. In addition, he composed drawings for a limited edition of his third novel, Black Mischief, published in 1932.
Jack Kerouac: An avid artist from a young age, Jack Kerouac left a significant amount of artistic work on his death. In fact so much that an exhibition of his work , 'Kerouac: Beat Painting', was displayed to much acclaim at the Museo Maga, Gallarte in 2018. Kerouac enjoyed the artistic as well as literary aspect of a book publication. He was deeply disappointed with the dust jacket of his first book, The Town and City, saying it's as "dull as the title and the photo backflap". It was published in 1950. He ensured that the dust jacket of his next book, On the Road, was more reflective of his personality. After five years of discussions with the publishers on 1957 his most famous novel was released with his own design for the dust jacket.
Finally, a collection of authors whose literary work was suitably illustrated would not be complete without the infamous book by T. S. Eliot, His Old Possum's Book of Practical Cats, contains fourteen whimsical poems inspired by the English tradition of nonsense poetry. His lifelong affection for cats is clearly demonstrated with his playful and sentimental drawings for his cover of the 1939 first edition.
Or maybe this is a good starter book for any collection of Artist and Author!