Looking after your book collection
When it comes to rare and antique books condition is crucial so it's important to look after a book collection carefully. Here are a few tips in how to preserve your treasured books:
Storage:
Keep your books upright on a shelf – unless they are large folio sized and then it's best to lie them flat. Be careful not to lean books which may warp them so use other books or book ends to support the books – but not too jammed together! Take care when removing books from the shelf so the spine is not pulled away first. This is especially true if the books are a little fragile to start with.
Check that the tem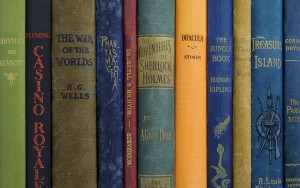 perature of the room is constant – any extremes of hot or cold, wet or dry may cause problems with mould from fungi, drying out of fine leathers or bleaching from sunlight. Hot radiators or damp corners are obviously to be well avoided as is a "sunny spot"! The ideal temperature of the room should be within the range of 16 to 19 degrees centigrade and humidity within 45 – 60%. Preferably both temperature and humidity needs to be constant and not variable. Measuring the temperature and humidty can be done with thermometer of a portable electric thermohygrometre or hygrometre if needed.
All books should be handled and stored with care, in order to preserve their good condition or to prevent existing damage becoming even worse. Remember that modern first edition books printed from the mid-19th century onwards are often printed on mechanical ground wood pulp paper, which often has a high acidic content and can quickly become discoloured and brittle if not kept in the right conditions. A specialized clear jacket cover can be helpful to protect valuable dust jackets and avoid finger marks. Caution is required when eating and drinking around fine books! A note too about keeping books together – don't use elastic bands to hold groups of similar books as these will dry out and become brittle – much safer to use a cotton tape. Needless to say sellotape and rare books do not go together!
Cleaning books: 
Books that are left on shelves for a long period will collect dust and this could encourage the growth of mould. Cleaning a dusty book is best done by carefully brushing a closed book's pages with a soft dry paintbrush – brushed away from the book shelf to clear the dust away. As well as dust collection silverfish or bookworms may infiltrate a fine book collection. These can be identified by the traces of larvae droppings called Frass which is usually found under the spines of books.
Repairing books:
There is a large difference between light dusting to clean a book and repairing  a broken hinge or page tear! If your book has a problem with it carefully think before embarking on a restoration project – is the value of the book worth less than the restoring bill? If so then it's probably not a great idea unless the book has sentimental value. It's worth remembering that restoring a cover is not to make the book look new again, but to make it look good for its age.
Repair jobs are tempting – how difficult can it be to simply glue back loose pages! But of course, badly repaired bindings, hinges or covers will devalue a first edition or rare book. Seek a reputable restorer and they may well be able to treat additional damage, spotted or stained material to reduce further erosion from dirt and oils. Leather covers can have restored color and luster. Cloth covers can be cleaned with water-less methods and in some cases cloth can be recolored. However do check that any washing will not shrink dust jackets.  Bindings can be repaired by sanding down boards, gluing spines and attaching free pages to the cover before a final finishing of the cover – all not to be done lightly so a job for a skilled professional.
Remember the condition of books is crucial so a first edition book with no damage is more valuable than a copy with missing pages and weak bindings-  or even worse a badly repaired edition!
Read more in Porch Top Tips for Book Lovers Q & A: Advice from the Experts