Remembering the First World War
The memorial for The Battle of the Somme have been a remarkable and sobering reminder of the fall out from war. The battle took place between 1 July and 18 November 1916 on both sides of the River Somme in France. It was one of the largest of World War I. M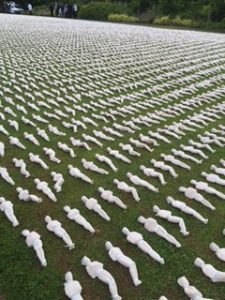 ore than 1,000,000 men were wounded or killed, making it one of the bloodiest battles in human history.
The UK has seen many events to mark this tragically important historian event. A local commemoration to mark the date was The Shrouds of the Somme.  The artist, Rob Heard created 19,240 shrouds to represent the 19,240 soldiers who died during the first day of the battle. They are arranged in rows on the ground as a way to physicalise the number of dead and to illustrate the enormity of the rare horror.
The 19240 Shrouds of the Somme project describes the process. "Each figure is associated with a name so that each soldier is individually acknowledged and remembered. Rob works his way down the  list, crossing off one name each time a soldier is created as he reflects on their individual experience. He creates the figures unaided, cutting and hand-stitching their calico shrouds, covering and binding them in a ritual of creation, remembrance and personal introspection. As each soldier is wrapped they take on their own form, twisting  and bending into their own unique shape – not only representing the dead – but death itself. The  sight of the figures both individually and collectively presents a poignant and provocative experience for the viewer, providing a moment for reflection within themselves about the physical reality of the war, in approximately 1:6 scale." It is a poignant and emotional  piece of work.
The BBC also repeated the film, The Wipers Times, which was first broadcast in 2013. It tells the story of Captain Fred Roberts discovery of a printing press in the ruins of Ypres, Belgium in 1916. With the help of ex-printer Sergeant Harris and with his friend Jack Pearson as his assistant, he sets up the satirical, Wipers Times. The name "Wipers" being the soldiers' slang pronunciation of the town Ypres. Full of gallows humor the paper was poignant, subversive and very funny. Enemy fire nor authority and gas attacks halted the production of the magazine. It proved to be a huge success with the troops on the Western Front. It was, above all a tribute to the resilience of the human spirit in the face of overwhelming adversity. In his spare time Roberts also managed to win the Military Cross for gallantry.
For more information about The Shrouds of the Somme go here
To see a copy of The Wipers Times go here